How to create and manage teams. What types of teams can be created and how to invite members.
Team races are a popular form of challenges in HeiaHeia. You can launch a ready-made Team Challenge with a few clicks from the admin under Run Challenges and use our Academy copy/paste message templates for your communication. Just check first, that the community's teams are created or updated.
As a admin user, you manage teams and their memberships. Log in to the browser version of HeiaHeia with your login, open the Admin tools in the top right corner under your profile and click on Manage Teams. Make sure you have enabled teams in Team settings.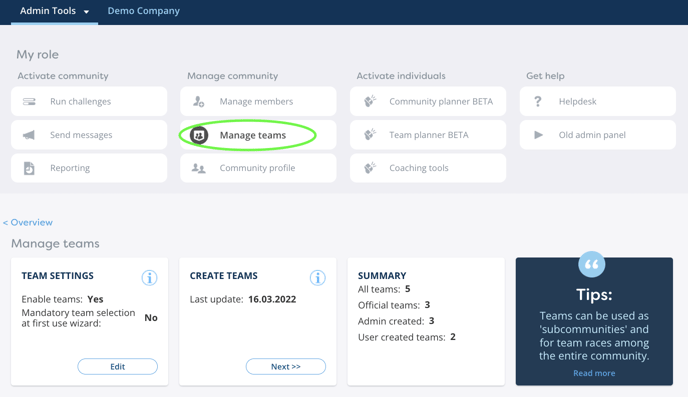 There are two different ways to set up teams in HeiaHeia:
1. Either you as admin create the teams for the community, or
2. you let the members set up the teams themselves (s. below unofficial teams). This is possible to do in the app.
Teams created by admin

A. You are about to launch HeiaHeia in your organisation and want to enable teams in the community.
Members can join the community and teams in two ways: 1. By email invitation or 2. by sign up code.
By email: The easiest way to create teams is mass-inviting members to the community via email invitations and create teams at this stage. If a new member joins the community by accepting your email invitation, she/he will also automatically join the right team. The Admin just needs to send out the invitations by uploading a list of new members with team names as excel sheet into HeiaHeia in admin tools. This easy-to-use tool can be found in Admin actions, under Invite members. More detailed information and an example Excel worksheet here.
By sign up code: New users can join the community using a sign up code. In this case the user needs to select his/her team when joining. If you wish to have all users in official teams, the best way is to create the teams beforehand and set joining a team obligatory. In this case, it is important to name the teams so that is it clear for the user which team she/he is supposed to join. How to create the teams: sign into the Admin tools -> Manage teams -> Create teams. Set the teams Official (see below for more information on creating teams and official teams).
B. You already have HeiaHeia in use in your organisation, but your organisation doesn't have teams yet: You can easily update all users with the HeiaHeia User Management tool and enter a team name for each user. Go to Admin tools -> Manage members. More detailed information and an example Excel worksheet here. The teams created with this tool are official and private (more about this below).
Team settings

Turn on Enable teams. If you like the top teams to show on your community page, enable the top teams widget.
Official or unofficial team?
Teams created by the admin are official teams. An unofficial team can also be created by a member of the community. The difference between these types of teams is the following:
1. An official team will appear on the community's team race leaderboard and an unofficial team can be excluded from the race if needed. If you wish only official teams to show on leaderboard, turn on the Use only official teams in rankings.
2. In addition, it is possible to make the selection of an official team mandatory when joining the community => Setting: Mandatory team selection at first use wizard.
Unofficial teams: Sometimes it is a good idea to let the community members set up teams themselves for a team race. It is also possible to let the members create their own teams in addition to the official teams. These teams can be very motivating for the members. All teams set up by members of your community are unofficial. See here for more instructions how the members can create teams.
Sometimes there are old teams in the community, but you still want to keep them. In case only the new teams are supposed to participate in a team race, you can choose in the challenge settings which teams will participate.
Creating and managing teams
As mentioned at the beginning, teams can be set up by uploading an excel list to the system. In addition, you can also set up teams one by one. Here is how to do that: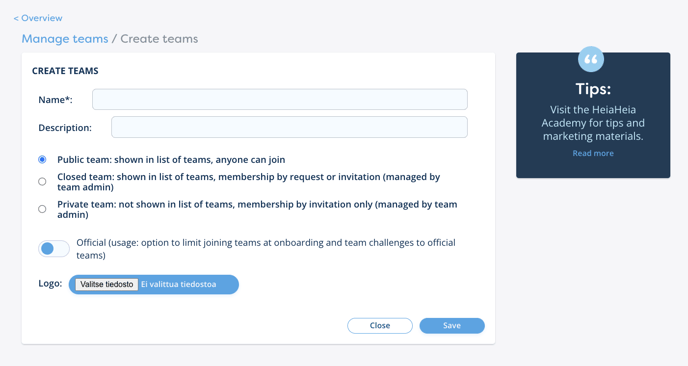 Click on Create teams -> Give the team a name and select the team type as public, closed or private team:
-
Public
: All members of the community can see the team and join if they wish.
-
Closed
: the team is visible when browsing the community teams, but joining is possible only by request. Requests are approved by the team's admin.
-
Private
: the team is not visible on the community teams page, only invited members can join.
These three team types are available for both official and unofficial teams.
Save and your team is created!
Next, add members to the team. First open the team details by clicking on the blue arrow.


Under Team profile, you can edit the team, add members or an administrator, and delete the team.


Browse team members: Click the blue arrow to see a member profile. To delete a member from the team, click on the trash bin icon. If there are a lot of members to delete, you can do this in one go using the excel spreadsheet in Admin -> Manage Members.
Community members can leave teams themselves and join depending on the team settings, but they cannot remove other members from the team.
Reporting

In a team race, all activities that are part of the race, are counted in the team result - depending on the race settings either as an overall team result or as an average result per team member. If a member does not wish his/her name to appear in the race rankings, in the participant lists or for reporting and rewarding purposes, his/her performance will be counted in the team result on a completely anonymous basis. Members can adjust their visibility on the service themselves.