My wellbeing page is summary of your wellbeing data, trainings, achievements and much more. You can also track your progress on achieving your own goals.
On this page we have gathered all important information about your own wellbeing. You will get a better idea whether your activity level, amount of steps taken and sleeping hours are adequate for your own health. Follow your activity level compared to some common health recommendations and to your own goals and track your progress towards achieving them.
Wellbeing Score and wellbeing check
The Wellbeing Score is based on collecting points from a wide range of different activities, such as physical and social activity, achieving certain goals etc. The Score system has 5 different levels from beginner to a wellbeing champion. How many points do you get for different activities? Check here.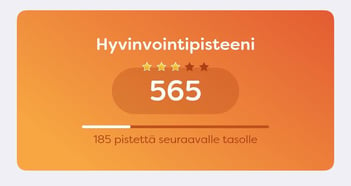 The monthly Wellbeing check ables you to follow your own wellbeing. Tap on the check and see all the checks you have made and your score.
Wellbeing Score and -tests are available only in the HeiaHeia Pro -version.
Goals
1. Wellbeing goal: Set yourself a wellbeing goal that motivates you and increases your wellbeing.
2. Weekly exercise: The purpose of this view is to show, how you are doing compared to some of the most common healthy lifestyle recommendations. Read more here.
3. My exercise target: Add yourself a weekly exercise target in hours, amount of exercises or distance. Try to achieve this target every week and make physical activity a habit!
4. Days over step target: Add yourself a step target in the Settings of your profile and try to reach your target every day! Track your progress on weekly and annual basis on your Wellbeing page. How many steps would be a good target? Check here. Tap on More and see some weekly, monthly or annual statistics for your steps.
The easiest way to import your steps is to connect HeiaHeia with a wearable or with a health app of your phone (s. instructions) but entering steps manually is also possible.
5. Nights over sleep target: Add yourself a sleep target in the Settings of your profile and try to reach your target every night! Follow your achievements on the wellbeing page on weekly or annual basis.
For importing sleep data you need to connect a wearable or other sleep tracking device that can be connected to HeiaHeia. If this is not possible, you can always enter your sleeping hours manually (log sleep). Read here more about sleep target.
Choosing your Home page card: One of these cards (2-5) is shown on the Home page. You can choose which one you prefer. Go to Settings and tap on your favourite card!
More data about you
On this My Wellbeing page, you will find even more data about your performance. Check here your weight log or your TOP sport arts and how many times you have logged them during the year. More detailed information can be found in your Training log and Wellbeing log. Choose Year to see the logs of different years.
We have also gathered all your Achievements on this page!
If you need more information about your statistics, please log into the browser version of your account (heiaheia.com) and click on Stats. Here you can filter e.g. by tags or by different sport arts. Read more here.