Learn what kind of Challenges are possible to create and how to create them with the admin tool.
This article gives you basic information about different types of HeiaHeia-Challenges and how to set up a challenge with the Challenge Builder Tool.
First, we recommend you to visit our HeiaHeia Academy and take advantage of the Best Practice concepts. You will get some ideas and tips how to plan and set up a motivating Challenge for your community (Academy coming soon).
As Admin user you can set up Challenges under Admin actions - > Set up a community campaign.
An organization can have many different challenges going on at the same time!
1. Your goal?

First you need to decide what do you want achieve with the challenge? What is your goal? Choose one of these options:

The community has a common goal and all members are working on reaching the common goal together. For a common goal you need to set a target amount, for example a certain amount of exercises, hours or kilometers/miles which the members are aiming for. The performance of the members will be measured and the community can follow the progress until they reach the goal.
Each member can compare their own progress vs the total or average of the community. The goal is personal or common. A member is trying to reach the common goal or his/her personal goal, for example 3 hours of exercising every week and can compare his/her results with the community total or average result.
Teams inside the community can compete against each other.
In a team race you need to set a starting and an ending date for the race. The performance of each team during the race will be measured and the teams can follow their ranking on a leaderboard.

2. What kind of activity do you want to measure?
Next step is to decide, what would be the best way to get to the goal. Choose on of these four:

Only physical activity will be included in the goal or team outcome. All physical activity can be included or just certain sport arts. Choose the sport arts you want to include in the dropdown All sports. For example, you can choose only cycling sport arts to be included. Tip: If you want a step challenge that only uses steps from wearable devices and phone accelerometers as input, select "Daily activity" as the only sport type.
Only wellness tasks are included in the goal or team outcome. You can concentrate on certain wellness tasks that might improve the lifestyle of the members or wellbeing at work. Choose under the dropdown "All" which wellness tasks you want to include.
This challenge type combines physical activity and wellness tasks.
The community members collect points for their wellbeing score (as a common goal or team race). The points measure holistic wellbeing. You can read here how to earn points.
3. Which measurement unit should you use?

Activity can be measured by many different criteria.
Consider, which measurement unit would be best for your community and for your goal. For example:
kilometres/miles
hours,
steps,
amount of sport arts,
amount of exercises,
floors,
avg hours/week
days over target.

For some units, such as kilometres, you can use the conversion if you want to include also other activities than kilometres. For instance, if you want to include gym exercises in the goal or team outcome. Training at the gym can't be measured in kilometers, so you use the conversion, for example: One hour = 5 km (30 min = 2,5 km etc). Click on conversion to see the options.


Measuring wellness tasks:
amount of tasks,
amount of different tasks.
4. Target amount and type?
Define your target amount or type.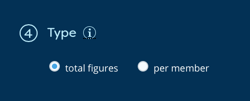 For common goal enter here the amount (value) of the common goal. For example, if you chose cycling sport arts, enter here the amount of your measuring unit (kilometers cycled, hours spent for cycling, amount of cycling exercises etc).
Day over target can be measured in steps or in distance and it has a daily goal, for example 10 000 steps a day. The target amount will be counted in days. Enter as your goal the amount of days over the target, for example over 10 000 steps.
In team race you choose a type: Total figures or per member.
Total figures: for example all steps or all exercises etc. of each team are counted. Works well, if teams have a similar amount of members.
Per member: the average amount per member. Choose this, if the teams are different in amount of members.
5. Finalize!
Choose a motivating title for your challenge and a background picture. All members can see these.
Select a starting day. The performance of the members will be counted starting from this day until you reach the goal. Starting day is always a Monday. For a team race you also need to select an ending day.
If you wish, you can send an info message to all community members. This can be done also later. (Coming soon: More info about rewarding and communication.)
Lauch campaign. Challenge created, great!