Learn how to find and invite friends, manage requests and cheer your friends.
Cheering and social interaction are at the heart of HeiaHeia!
HeiaHeia friends can see one another's entries in their feed, cheer and comment each other's achievements. You can add other HeiaHeia users as friends, or invite your friends to join HeiaHeia.
Tap on the characters symbol in the bottom menu and start interacting with your friends. It's easy and fun!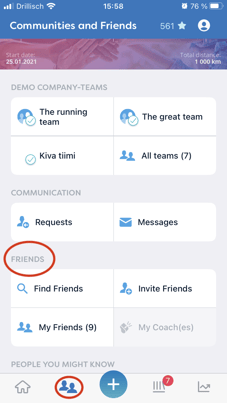 Finding friends
Tap on Find friends. If your friend already is using HeiaHeia, search him/her by name and tap Add friend. Use the full first and/or full last name to find other users.
If your friend is not using HeiaHeia yet, invite him/her by sending an invitation email.
After your friend has accepted your request you will have a new HeiaHeia friend and you can start cheering each other.
Browse the list of People you might know by swiping to find friend suggestions.
Suggestions are based on:
- Colleague (member in the same community)
- Members in same team
- Same friend
- Facebook friend (if logged in with Facebook)
- Friend of a friend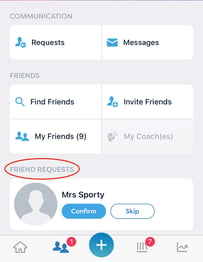 2. Friend requests
View and manage your friend requests here. Confirm to accept and skip the request if you are not interested.
This shows only if you have a friend request.
3. My friends
Here you have a list of all your HeiaHeia friends. Tap on a friend to see his/her profile or training log and top 5 sport arts of the year.
To write between you two, tap on Chat. In the chat you can send photos as well. By tapping the bell symbol in the right upper corner, you can mute a conversation if you don't want to be notified of new messages. Participating to the conversation is still possible.
To view your chats, go to your messages.
Here you will also find the option Delete from your friends.

4. Cheering friends
You can see your friends activities and trainings in your feed. Simply tap on Comment and cheer by writing something nice. Or tap on Cheer and choose a symbol you like for cheering his/her activity.
My communities feature is for Pro version only. Read here how to upgrade to a pro version.
Join with a code: If you received a sign in code to a new community, you can enter it here.