Learn how to log your workouts and activities on HeiaHeia. It's easy!
You can log a wide range of activities and other information on HeiaHeia. Logging your exercise and daily activity is easy by connecting your wearable or phone's health app (Apple Health or Google Fit) to HeiaHeia, but you can also log everything manually:
Tap the blue PLUS sign in the bottom menu and select the type of your new entry.
- Exercise,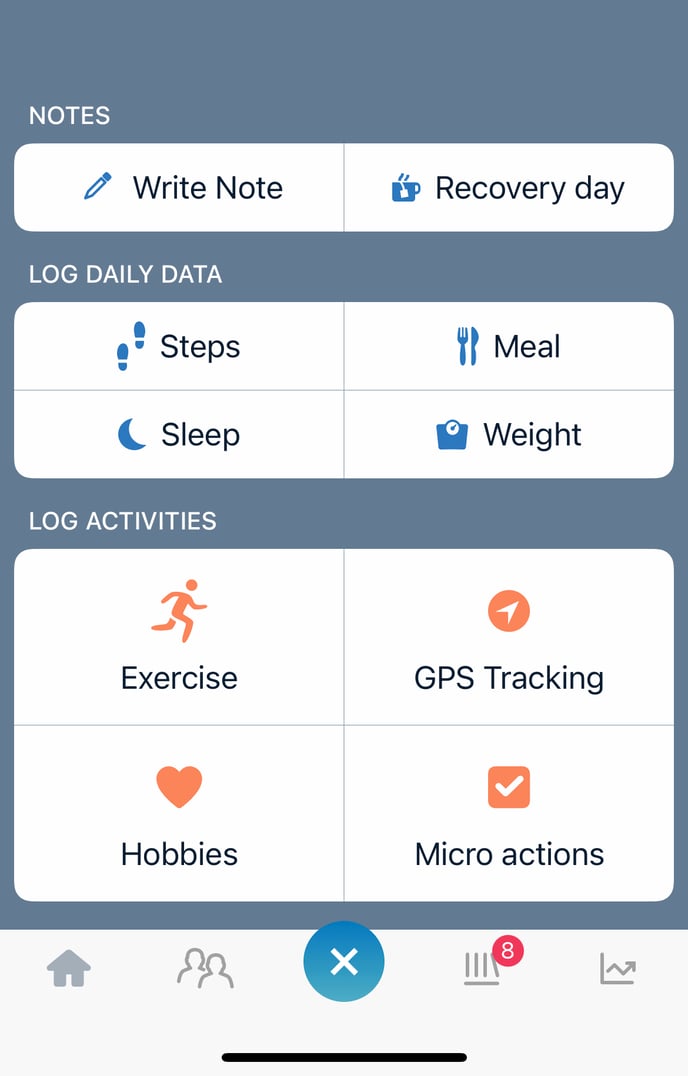 - gps tracking of exercises,
- hobbies
- micro actions (Pro version only)
- daily data (steps, meals, sleep, weight)
- recovery days or
- notes.
1. Logging exercise and hobbies
By logging your exercise and hobbies, you can track your activity levels and how well you're meeting your goals.

Under the Exercise section, you will find physical activities. The Hobbies section contains less physical leisure activities, which you can log to keep a hobby diary, for example for culture, crafts or fishing.
How to log your activities?
Tab on the blue plus icon and choose Exercise or Hobbies. There are about 600 different activities to choose from!
Search your activity or scroll down the list of different sport categories. For example, under Dancing you'll find many different types of dance.
Under recommended sports you will find your top sport activities. HeiaHeia becomes faster and easier to use as it learns your favourite activities.
If your activity is not listed, you can submit our support a ticket. We will see if it is possible to add this to the list.
Enter all data of your activity you wish to add. In addition to date and duration you can add a title, notes (will be shown under the title), distance, your mood, location, photos and tags. Under Advanced you can add calories, average and max. heart rate etc.
Enliven your entries by adding photos, titles and notes.
If you want to keep your entry private, toggle on the private entry. Your entry will then be shown only to you.
Exclude from stats. If you toggle on this, your entry won't be included in any personal or community statistics.
Tap on Save entry a

nd you are done!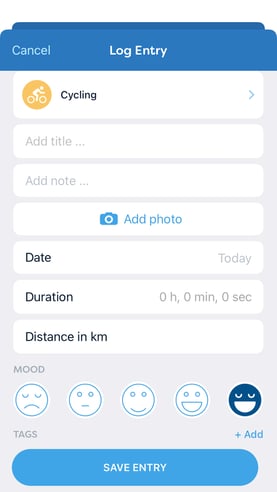 .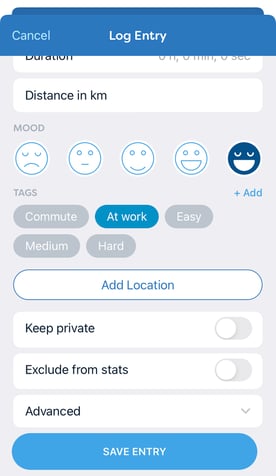 Tip: You can add a tag to the activity you have logged and filter the activities later based on the tags added. For example, you can tag heavy and light exercises or compare your progress on a particular jogging route. You can't delete tags afterwards, so take your time to think about which tags you need.
2. GPS-tracking
You can log data about your exercise and your route using the GPS tracker. To do this, certain settings on your phone need to be in place, please see detailed instructions here.

Select GPS tracking under the plus symbol and start the tracking by tapping the green Play button. Stop by tapping the red Stop button and Save to training log (or reset if you don't want to save your workout to HeiaHeia).
3. Micro actions (Pro version only)
Micro actions are small everyday well-being actions. Small actions can have big impacts!
In community challenge, you can earn bonus by completing micro actions on different topics, such as nutrition, a healthy workday or recovery. In practice, you can earn bonus for example by drinking a litre of water during the working day, taking a relaxing break or thanking a colleague - fun and easy! The micro actions available can vary depending on the theme of the challenge.
By logging micro actions, you automatically earn wellbeing points.

Logging micro actions:
Tap on blue plus icon -> Micro Actions and select the micro action(s) you have completed. You can select and log all the actions you have done at once.

You can log a certain micro action once a day.
Privacy: Micro actions are private by default, but you can change this later, see below.
Edit micro actions, if necessary. Open the entry on your news feed -> edit (date, privacy, add a picture or a title, etc.).


4. Daily data (steps, meals, sleep, weight)
If you have not connected a wearable or phone's health app, you can manually log your steps in the Steps section. You can also keep a diary of your meals, your weight or the amount of sleep you get. These entries are private by default. Private entries are identified by a lock symbol in the entry.
You can track your sleep and whether you are meeting your sleep target on the My Wellbeing page -> Nights over sleep target. By getting enough sleep you will also automatically earn HeiaHeia wellbeing points.
5. Recovery day
Sometimes you need to recover and rest. Take at least one recovery day a week without heavy sport and log a recovery day. Or if you're sick or not feeling well, log a recovery day and rest.
6. Notes
Take notes for yourself. You can see your notes in the news feed and find a list of them on the Wellbeing page (4th tab). By default, your notes are private, i.e. not visible to anyone else.