Learn how to connect HeiaHeia with Google Fit in Android phones and give HeiaHeia access to your health data.
Connect your Google Fit app to HeiaHeia and your activities like your daily steps, will be automatically imported to HeiaHeia.
How to connect Google fit with HeiaHeia?

1. Check if the Google Fit app is installed on your mobile phone. If not, download the app from the Play Store.
2. Go to your HeiaHeia account (profile icon in the upper right corner) => Wearables & Google Fit => Google Fit.
3. Toggle on Connect to Google Fit.
The HeiaHeia app will ask for a permission to access your health information. After allowing, HeiaHeia will be listed under Manage connected apps in Google Fit.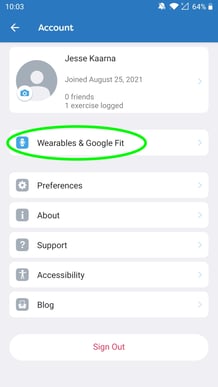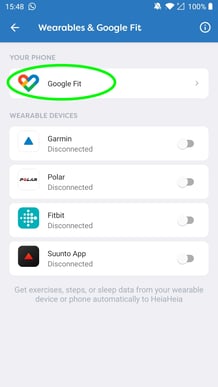 .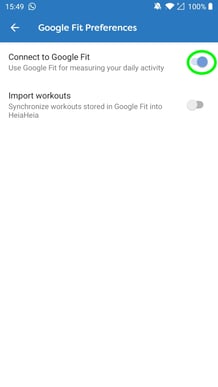 After connecting the following daily activity data will be imported into HeiaHeia:
- Steps, sleep and weight.
Your phone keeps track of your steps and these are imported to HeiaHeia via the Google fit app. Weight and sleep data will only be imported to HeiaHeia if you have saved this data to Google fit via a wearable or another connected app (or entered manually).
In HeiaHeia, weight and sleep data are private by default and not visible to others.
Importing workouts to HeiaHeia
Toggle the Import workouts on if you have workouts logged in Google Fit and you want to sync them to HeiaHeia. Google fit workout entries usually are imported from another wearable or app that is connected to Google fit. This allows you to connect also wearables that can't be connected to HeiaHeia directly.
In the settings of Google Fit you can manage the Google Fit data and connected apps.
Open Google Fit.
Go to your profile -> tap on the settings symbol.
Tap on Manage connected apps under Google fit data. You will see all apps and devices connected with Google Fit.
Tap on HeiaHeia to view the imported data or to disconnect.


Tips:


To avoid duplicate entries, we do not recommend connecting both a wearable device and Google Fit to HeiaHeia.
All the walking workouts imported from GoogleFit are discarded if they are less than 1km of distance. Walks between 1 and 2 km are logged as private by default. This is because GoogleFit may autocreate walking entries which would unnecessary fill in the user's training log and feed.
Sometimes the type of activity may change on the way from the wearable device via Google fit to HeiaHeia. This is because either Google fit or HeiaHeia does not have the exact same activity as it was logged on the wearable. In HeiaHeia, you can change the activity manually afterwards if necessary.
In case of synchronisation problems:
1. First of all, check that you have the latest updates for both apps.
2. Try disconnecting and reconnecting (switch off and then back on in HeiaHeia).
3. Check in Google fit that HeiaHeia has permission to access Google fit data. If the permission is not shown in Google fit under Manage connected apps (see above) and reconnecting does not give permission, you should clear the phone's cache:
- Android Settings -> Apps -> HeiaHeia -> Memory: clear cache and clear data. When you then open HeiaHeia, the app will ask you to sign in again. Connect to google fit again and give permission.