The coaching tool allows you to plan tasks and programs for your coaching clients, monitor their activity and communicate directly with your clients.
Log in into HeiaHeia's browser version and choose My HeiaHeia -> company name -> admin tools -> coaching tools. A coach needs the rights for coaching in HeiaHeia.
Inviting coaching clients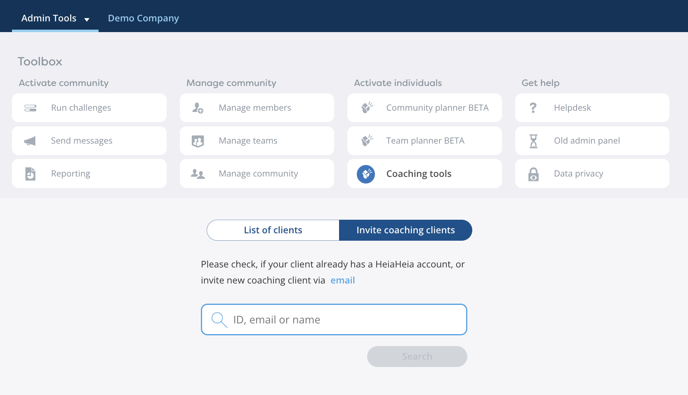 First, Invite coaching clients.
If the person you are inviting already has a HeiaHeia user account, you will find her/him by searching by name or email address.
If the person is not yet in HeiaHeia, invite her/him first to join and open an account -> click on email, fill in the needed information and send the invitation. The person will get the invitation by email. After accepting it, she/he will join the community and become your new coaching client. Depending on your HeiaHeia email settings you will also be notified by email.
Coaching tools in HeiaHeia
On the page List of clients you can see all your coaching clients and their activity. A coach has access to all data entered by the client in HeiaHeia, also private ones.
Click on the entries to view the entries in more detail. Scroll the timeline by using the blue arrows.

1. Plan event
Plan trainings, wellness tasks, tests or programs for your coaching clients. HeiaHeia has a wide range of programs for different levels.
Click on Plan event and select the task.
- Set the date + if you want the event to recur, define on how many days and
- the duration of the task.
- If desired, you can add tips and instructions under the notes.
The tasks you have added will appear in the client's training log.
Make use of HeiaHeia's wide range of high quality programs in your coaching. Open on the program and browse by clicking the arrows. Select the program by clicking on Save.
2. In the training log of the client you can view all his/her entries and, in case the client has connected the health app, Google fit or a wearable with HeiaHeia, also the daily activity.
Click on Show all to filter trainings. You can filter workouts, notes, sick days, tags, weight logs or medals.
3. Statistics enables you to view the bigger picture and to analyse the development of your clients.
The Summary gives you a quick view of your client's top sport activities, the number of exercises and hours spent for exercising and sick days. Click on the year to view the activity in a certain year or choose all time to see a summary of all years.
The training log on the statistics page allows you to analyse the statistics on a monthly or annual basis. With all years together you can compare different years with each other. Select the year by clicking the year (not the arrow).
View trainings in number of exercises or in hours by clicking on Exercises or Hours. Include sick days and the target if you wish. The target appears as a green line in the statistics and sick days as a plus icon.
Filtering: To get some more detailed information on certain sport activities, choose All sports and click on sport activities you want to filter.
Filtering through tags:
Choose All sports and click on a tag you want to filter with.
If you have agreed with your clients to use certain tags, you can filter by these tags to analyze training stats in more detail. For example, to separate light workouts from the more intense ones. Or you can tag running routes to compare your client's performance and progress.
Note! You can't delete tags, so take a moment to pick the most useful and appropriate ones.
Statistics can also be used to monitor your client's weight logs on a monthly or annual basis.
4. Messages
Keep in touch with your clients! You can send messages directly to the clients and they can also keep in touch with you. View your messages in your HeiaHeia inbox, under your user account. You can also add fotos to messages.
4. Reports
Download following reports / coaching client:
- Sport activity
- Daily activity
- Meals
You will find the reports under More. Select a starting date and export.
Under More you can also remove a person from coaching.