Plan how and when to inform the community about HeiaHeia and starting challenges and take advantage of our message templates.
Communication plays an important role in a successful implementation of HeiaHeia and also during HeiaHeia challenges. Therefore, it is worth investing some effort in planning. But you don't need to spend hours on this, as you can take advantage of our message templates (more to come).
A good way to communicate is to use both HeiaHeia's info message tool and other communication channels in your organization (newsletters, screens, intranets, team meetings, wellness days and other common moments).
HeiaHeia is a fun way to improve your well-being together with other community members and shouldn't stress anyone out. This idea is good to keep in mind in communication as well!
Get the executives and the key personnel of your organization onboard
Before sending the first message to your organization, try to ensure that the executives and the key personnel of the organization look forward to joining HeiaHeia and and see the importance of promoting wellbeing of the personnel. Encouraging company management motivates the personnel to participate and improves the team spirit of the community. Could you involve the key personnel in communication? Could the CEO act as a frontman?
Communication timeline in HeiaHeia challenge (example):

1. Preparatory message
This message prepares for what is coming. You can communicate the following:
What is HeiaHeia and what are the benefits for me?
How can I join?
What do we want to achieve with HeiaHeia?
How do we benefit from HeiaHeia in our organization?
Take advantage of our message template here.
2. Introducing the HeiaHeia challenge

Inform the organization about these things in the first message:
What kind of challenge it will be? What is our goal, are there interim goals and what is the timetable?
How can I join?
If participants are rewarded, how will you reward?
Where to get help if you have any questions (support.heiaheia.com)?
Let's improve together the wellbeing of the work community and personnel in a fun way!
2. "Take off" is getting closer, last announcement! (about 2 days before starting)
Before starting the challenge it is a good idea to remind everyone of the following:
Now at the latest, open a HeiaHeia user account (accept the invitation or use the sign up code) and if you have a wearable, connect it with HeiaHeia. Or connect the health app or Google fit from you phone or use HeiaHeia browser version.
Remind about challenge and the goal.
Help is avalable here (support.heiaheia.com)?


3. GO! Start day message

"Let's do it" -message to everyone! You can also share some motivating info (e.g. an article).
4. During challenge

Send some information on the progress of the challenge, for example in the end of the first week.
Inform about possible surprise prizes for reaching interim goals (e.g. prizes between joined personnel).
If necessary, invite persons who have not yet joined again (Admin view -> manage users). Invite also new employees.
5. Goal reached! Challenge completed - great!
Thank everyone who participated for a good performance and hand over the prizes. Take advantage of the statistics and reports provided by the admin tool.
Remind of next steps - promoting wellbeing is not just a project.
You can inform the community about a next challenge and when it is planned to start.
Encourage the personnel to continue using HeiaHeia even when a challenge is not running (programs, peer support).
HeiaHeia helps you regularly with communication by sending emails, status updates and info messages. Here's how you can send messages through HeiaHeia:
HeiaHeia info message tool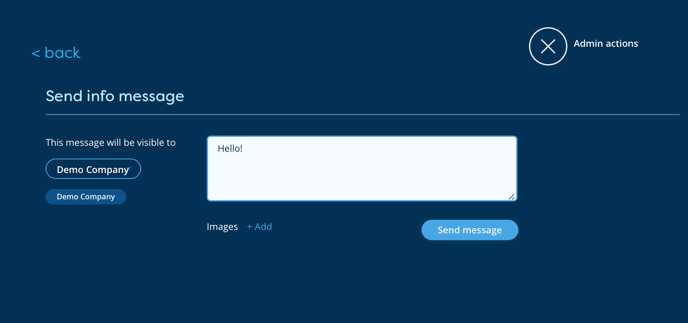 On computer: Admin can send messages to all community members in Admin actions -> Send info message.
The message will be shown for all members on the community page and in users' feed.
Admin can update published messages or delete them. Just click on the message and edit/delete.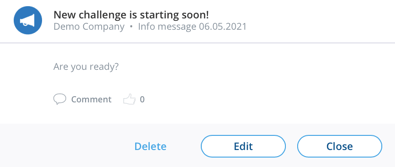 In the app the message shows on the main page (Home). An admin can edit or delete the message also in the app by tapping the message. Deleting: tap on the message and then the 3 dots in the right upper corner.
In addition to text content, the message can contain web links, links to Youtube, Vimeo services (the message will include a video icon) and attached image files.
Depending on the email settings of a user, he/she might receive the message as an email as well.