What is a rewarding program and how to take part.
Employers or organisations often offer you a chance to take part in HeiaHeia activity challenges. Community members might get rewarded for being active and taking part: For example for achieving a certain common goal or or reaching level xx in Wellbeing Score. Or the whole team gets rewarded for a successful team race.
When you participate in challenges and campaigns, you also take part in the rewarding program and therefore your name will be included in the community and campaign participant lists and reporting. Your individual entries will not appear in the participant lists or reporting, only summaries of your data.
The rewarding program is turned on as a default setting. You can check your settings in the app in your user account profile (top right corner) in Settings -> Participant lists and reporting.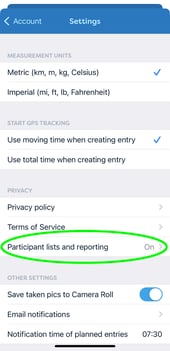 You can also adjust your visibility in the app directly from the challenge page, which you can access via the campaign banner at the top of the homepage -> adjust your visibility. Read more here.
What to do if I don't want to participate?
It is of course always your decision, whether you want to participate. If you don't want to share your individual achievements, your activities are still counted anonymously in common / team result.
If you do not want to take part in your employer challenge and rewarding programs or be included in the lists and reporting in HeiaHeia, you will need to indicate you do not want us to share this information. Please turn off the rewarding program:
In the app: Go to Account –> settings –> tap on Participant lists and reporting and turn off.
In the browser: Click on your account (your name) –> settings – > scroll down to Rewarding programs: Participating in possible rewarding programs – click to turn off the program.
If you wish, you can change the setting at any time!