In Finland, Exercise Day of your dreams -national theme day is celebrated on 10.5.2021. We challenge HeiaHeia users to try different ways to be active!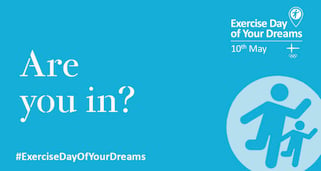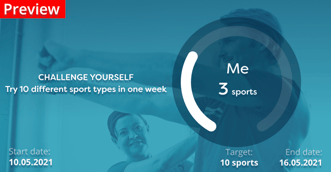 The goal of the day is to inspire people to move and find new ways to move. Although the Covid-19 situation continues, it is difficult to organize traditional sports events this year, we can still move responsibly & together using digital platforms!

We invite all the HeiaHeia users to enjoy the joy of exercise in the form of a free challenge:

The week-long challenge starts on Monday 10 May. The idea is to challenge yourself and try 10 different sports types or modes of activity during one week. You can follow the progress of the challenge in real time with the HeiaHeia challenge meter, which is part of HeiaHeia's popular "HeiaHeia for Workplaces" version.

There are more than 600 different sports and forms of movement involved: walking the dog, cycling or a pilates exercise on the living room floor. You decide you used to move and participate!

Everyone who achieves the exercise goal will have free access to the HeiaHeia-Pro version for 6 months, which includes additional features such as comprehensive program libraries with the themes Body, Mind and Better Workday.

Did you come up with any reason not to join?
How to participate?
Download the free HeiaHeia app from your app store (Android, IOS) and create an account.

Join the Dream Exercise Week challenge:
Click the Communities and Friends tab next to the Plus button.
Click Join with code
Enter the code: ULP21
You will join the Dream Exercise Week community and from 10.5 you will have access to a challenge meter that measures the number of sports.
Logging your exercises:
You can log activities by:
clicking on the blue plus icon at the bottom of the application.
Then click "Log activity"
Select sport/activity - use the search genre function if necessary
If desired, enter the duration and other information and click done.


Tip: You can connect your heart rate monitor or phone health app to HeiaHeia and your training data will be automatically transferred to HeiaHeia. Learn more here.