What are wellbeing points and how do you earn them? In this article you will learn how to use points to support the overall wellbeing of your community members.
A short summary:
Wellbeing points are earned through small everyday health activities. Earning wellbeing points is a motivating way to improve your wellbeing.
There are 5 levels of wellbeing. As you earn points, you progress from one level to the next. Health activities in the last 3 months are taken into account.
As well as improving personal wellbeing, points can also be used for challenges (team races and common goals). Wellbeing points are ideal for different types of rewards.


Wellbeing score - small acts of wellbeing instead of big feats
Wellbeing is based on small and regular activities and choices rather than one-off achievements. Wellbeing is holistic, consisting of different areas. In HeiaHeia, wellbeing points are earned for example for steps, sleep, wellbeing activities, exercise and cheering on friends. By doing and logging these, you contribute to your wellbeing, earn points and progress from level to level.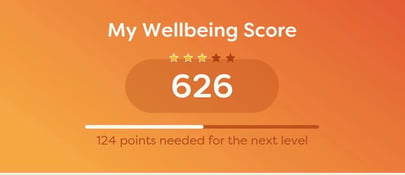 Wellbeing points are earned automatically by doing and logging various health activities in HeiaHeia. For more information how to earn points, click here.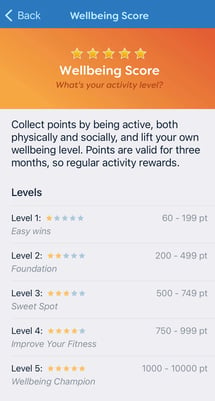 For example:
5000 steps per day: +2p
Over 7,5h of sleep: +4p
Cheering a friend: +1p
30 min exercising: +3p
Healthy lunch: +1p
What is your level?

Based on your wellbeing score, you can achieve 5 different levels, indicated with stars - from Level 1 Easy Wins to Level 5 Wellbeing Champion. The more points, the higher the level.
In the App: You can see your personal score in the top right-hand corner and also your level (stars) on the My wellbeing page, which you will find under the arrow icon in the bottom right corner. Tap on My Wellbeing Score to open your Score Summary.
Web: You can see your personal score and current level (stars) on the page My HeiaHeia. Browse the banner by clicking on the arrow until you see the My Wellbeing Score. For more information, click on the info icon in the top right-hand corner of the icon.
Actions in the previous 3 months are taken into account
Wellbeing cannot be stored or saved in a bank. Health activities logged in the last 3 months are included in the HeiaHeia wellbeing score and levels. Activities older than that will expire and will be excluded from the score.

How can I achieve level 1?
The first level is called Easy wins. To get there, you need to earn at least 60 wellbeing points in 3 months. You can achieve this amount for example as follows:
5 nights 7,5h or more sleep = 20p
10 days more than 5000 steps = 20p
5 times cheering a friend = 5p
30 min exercising = 3p
4 wellbeing activities = 4p
Starting a program = 10p
Total 62 wellbeing points.
Challenges and team races
Various challenges and campaigns can be created around the wellbeing points. The points you collect will automatically add to the pot of your community and your team.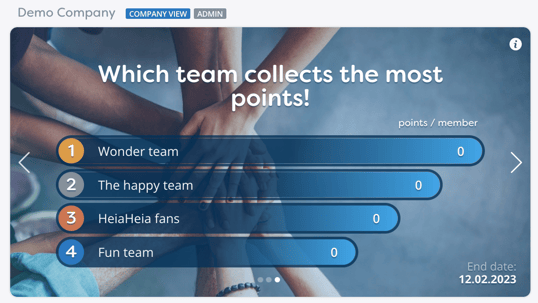 Rewarding
Wellbeing levels can be used as part of rewarding and incentive programmes.
When launching HeiaHeia, a popular model is to reward or draw a prize among all those who have reached wellbeing level 1 by a certain deadline (e.g. first month).
Wellbeing scores and levels also enable a long-term incentive system, where community members are rewarded based on wellbeing levels. For example, you can draw prizes once a month according to a level (level = lottery ticket).